by Ian Cooper
As anyone with a respiratory system will tell you, flu season isn't fun.
But as any investor holding pharmacy and flu-related, coughing-sniffling remedy stocks will tell you it's one of the best times of the year.
So far, this year, according to CNBC, "It's been more than a decade – since the H1N1 swine flu pandemic – since flu hospitalization rates have been this high at this point in the season. The CDC estimates that there have been at least 880,000 illnesses, nearly 7,000 hospitalizations and 360 deaths from flu in the US this season. The first pediatric death in the country was reported this week."
About 128 million doses of flu vaccine have been distributed this season, compared with 140 million at this point last year and 156 million the year before that, according to the CDC.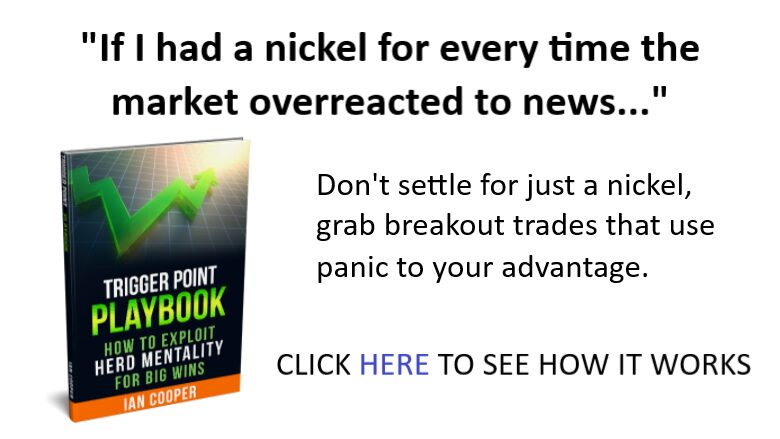 Worse, "Seasonal influenza epidemics cause 3 million to 5 million severe cases and 300,000 to 500,000 deaths globally each year, according to the World Health Organization (WHO). The United States alone sees 140,000 to 710,000 influenza-related hospitalizations and 12,000 to 56,000 deaths each year, with the highest burden of disease affecting the very young, the very old, and people with coexisting medical conditions," notes the NEJM.
Like clockwork a specific set of stocks rises as flu season begins, including:
Clorox Co. (CLX)
Since early October, shares of CLX have run from about $125 to $148.14. From here, the stock could test higher highs, if flu season gets worse.
According to MarketingDive.com, "Recent consumer research by the brand found that 82% of Americans believe cleanliness is required for a clear head and 68% believe it's needed for a fresh outlook." Plus, analysts are now warning of a "twindemic," with influenza, RSV, and COVID-19. CLX also carries a dividend yield of 3.19%.
Rite Aid (RAD)
Rite Aid could rally on flu season, as well. While the RAD stock slipped on a weak flu season in 2021, it could be a different story and severity this year. If that's the case, RAD could rally with vaccine demand.
According to Today.com, "The 2022 to 2023 flu season is already off to an early start, with cases rising rapidly over the last few weeks in parts of the South and Southeast. Texas and Georgia are among several states reporting unusually high numbers of confirmed flu cases for this early in the season."
"There are already reports that demand for flu antiviral medications is surging, and some pharmacies in hot spot states are scrambling to fill the higher-than-usual number of prescriptions for this early in the season." That demand should be a strong catalyst for the Rite Aid stock.
CVS Health (CVS) The CVS Health stock is on the move, too. Since the start of October, shares have run from about $86 to $94.
From here, again depending on flu severity, the stock could run back to $102, near-term. CVS is also one of the pharmacies reporting a shortage of amoxicillin. According to NBC News, "Pharmacists said they are worried if the shortage lingers through the winter, when infections can surge and antibiotic use typically increases."
Making it worse, amoxicillin manufacturers — Hikma Pharmaceuticals, Sandoz, and Teva Pharmaceutical are reporting shortages of the antibiotic, according to the American Society of Health-System Pharmacists.
No one is quite sure how long the shortage could last.