From Ian Cooper, Author Trigger Point Trade Alerts
Keep an eye on shares of Nio Inc. (NIO).
Oversold at its 50- and 200-day moving averages, NIO could run from $44 back to $55, near-term. All thanks to accelerating momentum with electric vehicle growth.
In June 2021, NIO delivered 8,083 vehicles in June 2021, a new monthly record representing a robust 116.1% year-over-year growth. For May, the company delivered 6,711 vehicles in May 2021, 95.3% year-over-year growth. Believing July 2021 delivery numbers will be just as impressive, recent weakness could be a great opportunity.
Plus, it's running on accelerating global EV demand.
Remember, countries all over the world have pledged to cut emissions.  The U.S. just pledged to reduce emissions by up to 52% over the next several years. Europe wants to cut CO2 emissions by up to 55% by 2030. China says it'll stop releasing CO2 in the next 40 years.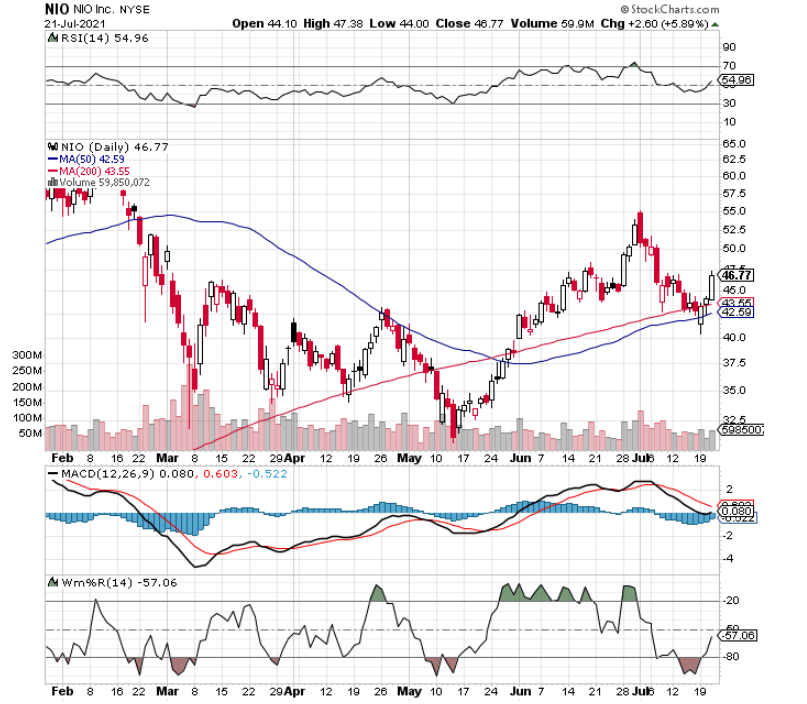 To help, says the International Energy Agency (IEA), we have to stop using gas-powered vehicles in the next 14 years, abandoning coal mines, and ending oil exploration. All are substantial catalysts for further electric vehicle adoption.
General Motors Company even just announced it will boost global spending on EVs to 435 billion through 2025. It will build two additional battery plants in the U.S. That news comes just weeks after Ford Motor announced plans to spend $30 billion on electric vehicles.
In addition, according. To Yahoo Finance, "BofA Global Research lifted its estimated global penetrations for all EVs, including battery electric vehicles (BEVs) and plug-in hybrid electric vehicles (PHEVs), to 23%, 40%, and 67% for 2025, 2030, and 2040, respectively."
Ian Cooper
P.S.-If you want alerts like this and others that have returned as much as 400%, be sure to grab my Trigger Point Trade Alerts service for just $1. I'll even send you my book that demystifies herd mentality and shows how to exploit market moves caused by media induced panics. You can grab it here.