From Keith Harwood, OptionHotline.com
Between the time I've written this commentary and the time it's sent out, earnings in names like Google, Twitter, AMD, Microsoft, GM, Boeing, Coca-Cola, McDonalds, and many more will be out. Thursday after the close has Apple and Amazon earnings announcements due. If I missed a name you follow, don't worry. I missed a lot of names in that list, but I tried to highlight a number of the big ones. And in the hours and days that follow this article, there are many more.
So, what do we do about that for trading? Do we follow the technical signals and load up on positions based upon technical analysis under the assumption that the market knows what's coming? Do we try to trade the moves based upon fundamental analysis? Do we simply perform our options analysis to find names that can move much more (or less) than the options imply at a reasonable expectation?
For me, this is the toughest trading time for each quarter. My favorite options trades are built upon something other than earnings – they are build upon technical analysis and low implied volatility. But, once we get past earnings, options get SIGNIFICANTLY cheaper, because we've removed an unknown.
Removing unknowns can be good for people looking to buy (or sell) options. Unknowns make for stocks that might move 1% or 40%. Unknowns create larger fear in the market, and sometimes it's way more fear than there should be. And sometimes, there's less fear than there should be.
And after we've removed that unknown, the technical signals start to take over again.
So, in times like this, I tend to trade a little bit of relative value and get myself ready for the weeks to come.  Because the weeks to come can be explosive and require a lot of focus to find the best opportunities. Scroll down for the chart.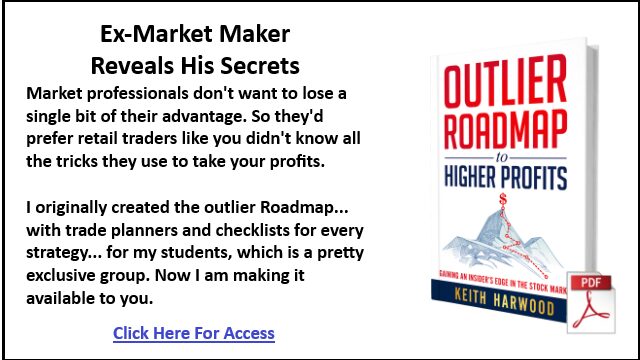 Let's remember that the NASDAQ 100 is testing a breakout here, trading just below the September 7th high:
With many major tech earnings this week, we will either set a new bullish trend for tech, or negate it and possibly turn this into a collapse. That's more exciting than stock-picking earnings trades for me. For others, stock-picking earnings is fun. But I focus on technical trading and options analysis, and I like to see trends through sectors and broad markets to help add greater leverage.
What I don't know is what the new trend will be by the time you read this note. What I do know is that now is a time that I'm prepping all of my charts and analysis and preparing cash in my trading portfolios for the next big move.
Don't forget to head over to https://optionhotline.com to review how I traditionally apply technical signals to my options trades and if you have any questions, never hesitate to reach out.
Keith Harwood
Keith@optionhotline.com
PS–Don't miss my upcoming webinar next Wednesday, Nov 3rd. on easy tips to spot bargain option trades with explosive potential. You can sign up here.