This market has been giving traders fits, but there are winners out there to be had. I scan more newsletters every day than I care to admit and I am always on the look out for a pro who is "hot", especially in a tough market. Chuck Hughes is a virtual winning trade machine. Take a look at this trade and see how he does it.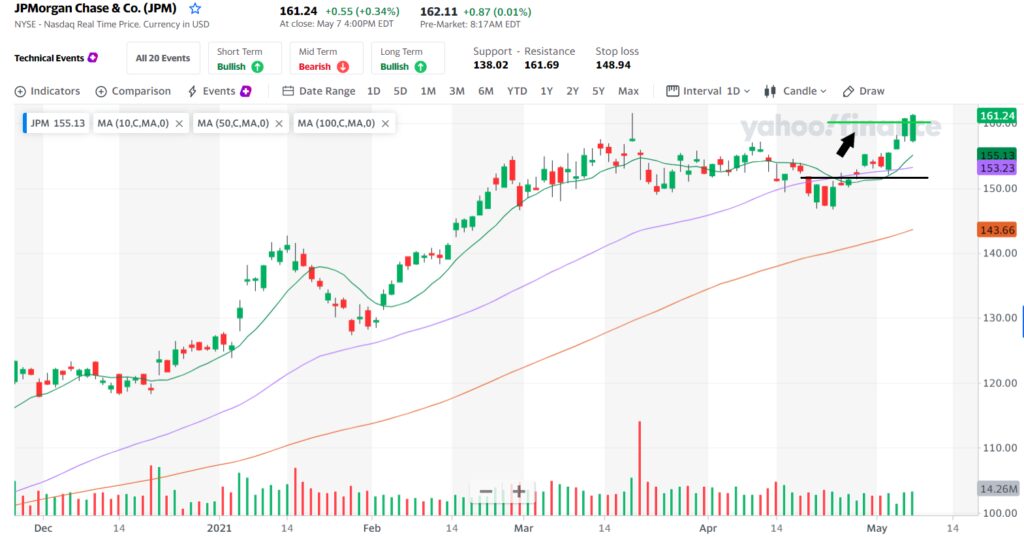 A couple weeks ago, Chuck pointed out that JPM had crossed the 10 day moving average and was bullish. He even provided a target price. The stock was at about $152 (i got even cheaper in the next few days) and he set the profit target based on a $160 price. His option calculator showed that if the stock hit that mark, a 5% gain, the call option would make 50% before commision.
If you look at at this chart, it played out as expected.
I don't know about you but I am always looking for a 50% gain in a couple weeks. So you have a couple choices to be able to do this for yourself.
This isn't a complicated dark secret that requires a magic key or anything like that. It is just using moving averages which are available on every charting tool. You just have to scan the market for stocks that meet this criteria and then confirm the trend, and calculate the current option cost versus what the premium will be if it hits the target.
Or you can go another route that I think is much easier.
Chuck offers a number of services that let you use his work and get the benefit. As much as I'd love to think I will put the time in to finding these trades everyday, life just happens. Letting Chuck do the work is definitely more realistic.
But if you are reading this, and if you have made it this far in the message, you have that initiative and are the person that doesn't mind a challenge or getting your hands dirty. Chuck is throwing out a challenge to show that your can do this yourself and also show that it takes a special person like you. If you click here you could get in on the challenge.
Either way, you really can't go wrong.
Keep learning and trade wisely,
John Boyer
Editor
Market Wealth Daily