Running with the wind at your back is always easier. Betting with odds like the house gets is a good way to win. Trading with smart systems and putting probability on your side makes grabbing gains much, much easier.
A week ago we looked at a trade on SPY (the ETF that tracks the S&P) and it seems to be playing out as we expected. (You can see that post here and here is the previous trade that is at about 154%) We used some proven methods to put the momentum on our side and use smart options strategies to minimize our risk. The SPY had hit its recent resistance point of 425 and we looked at buying a call with a 430 strike. Take a look at the updated chart: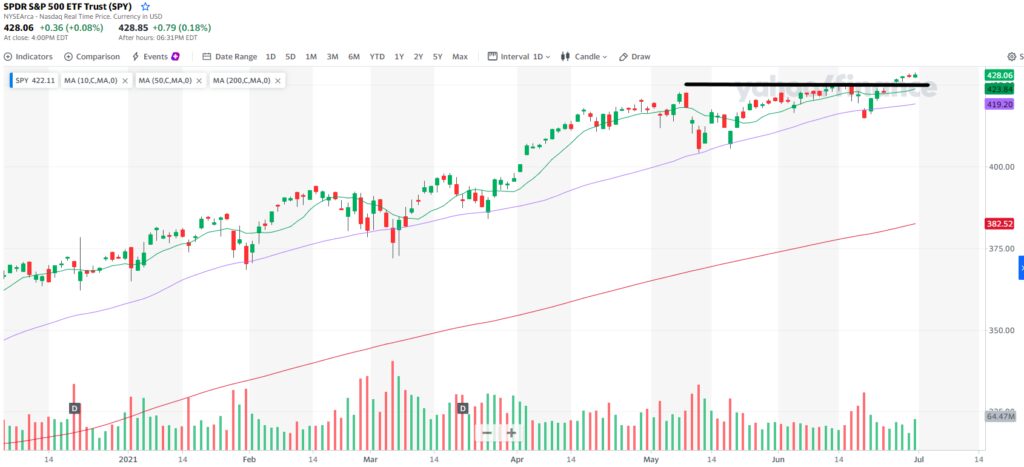 SPY pushed through the 425 point and headed up. We looked at the Aug 430 ($5.66 last week) calls and the July 430 calls ($2.80 last week). The July 430 call was up to $3.59 and the Aug 430 call moved to $7.02. Both respectable gains but is it time to grab the money and run?
I don't think one answer fits all in this situation.
The time frame for these trades is the key to making the right call. Calculating which has a better probability is easier than you might think
Don Fishback outlines methods for smart options trading and is the go to expert on calculating the likelihood of options trades paying out.
I would grab his book "Your Quick-Start Guide to Options Success" and see for yourself. It explains ideal option strategies–from spreads, to strangles, to straddles–in the most simple language I have seen. Download and don't miss this opportunity.
Keep learning and trade wisely,
John Boyer
Editor
Market Wealth Daily