Last week's jobs data really summed it up. It is all about expectations. At one point there was a number of adding a million jobs. Then it was bumped down. And even though it came in lower than the adjusted target, it was still positive. 
At the end of the day, it is just hard work to get the economy back on track after the pandemic. It isn't a single sound bite, it isn't a quick fix. It is slogging through the mud, getting dirty, and grinding it out. 
As an example, let's look at the NASDAQ: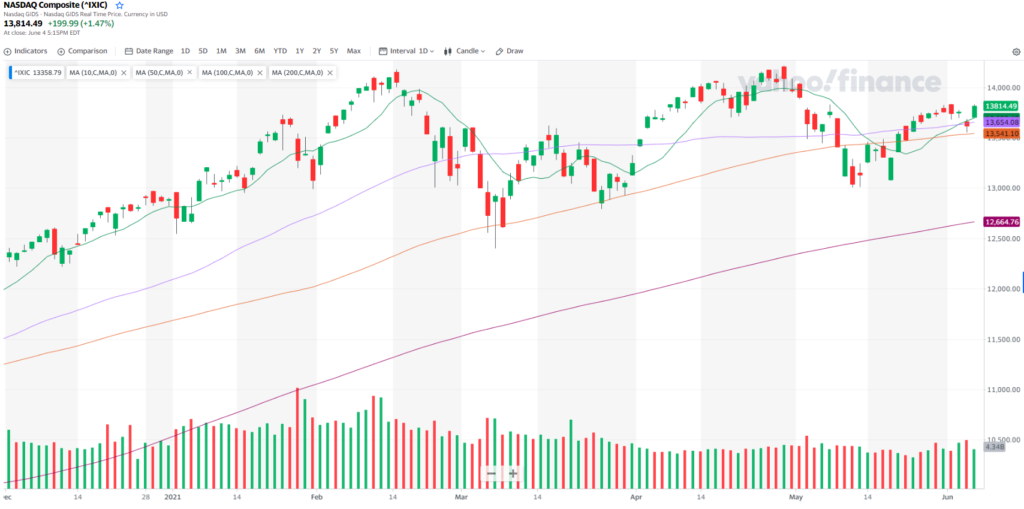 We can see it consoldiating in this range and continuing to fight back, trying to get back on that rally we saw since last spring. Friday saw it jump above the 10 day moving average and the 50 day moving average showing some strength, so we are going to watch closely this week to see if those points of resistance become new support.
The good news is, with the right strategy applied, the hard work can pay off. Finding the best strategy for the current environment doesn't have to be the hard part of making money from trading. 
When we are looking at the environment we are in, we see some great opportunities as volatility trends down.
If you are looking for the right option strategy to get the biggest leverage from this current market, the pro to go to is Don Fishback.
I would grab his book "Your Quick-Start Guide to Options Success" as well. It explains ideal option strategies–from spreads, to strangles, to straddles–in the most simple language I have seen. Download and don't miss this opportunity.
Keep learning and trade wisely,
John Boyer
Editor
Market Wealth Daily
Trade Update
We looked at buying a QQQ call option for July with a 336 strike at about $7.65 on May 28th. We saw that premium dip last week and then come back up to the $7.65 range. With the move up late last week we are in a good position to see some profit build in this trade. QQQ is just below our strike at $335 and we have a solid chance of making it up to the $340 target we initially set for the trade.
Keep checking in and we will see how it does.