From Ian Cooper, author Trigger Point Trade Alerts
The electric vehicle story should accelerate in New Year 2022. 
Especially with global leaders demanding millions of EVs hit the roads.
The U.S. for example wants about 50% of all car sales to be electric by 2030. Plus, according to the International Energy Agency (IEA), the world could see up to 145 million EVs on roads all around the world – less than 10 years from now.
With demand showing no signs of slowing at all, it just makes sense to own EV stocks, including:
XPeng Inc. (XPEV)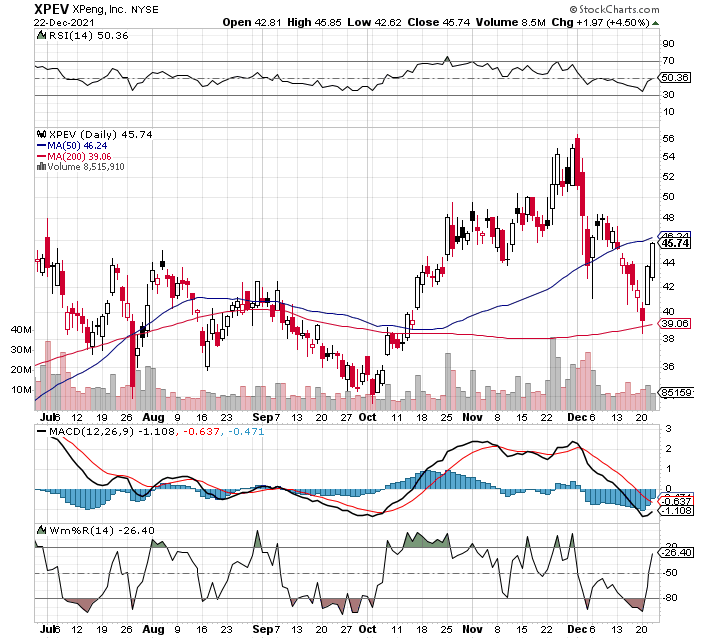 XPeng Inc. (XPEV) is a $38.6 billion EV company based in China.
For one, the XPEV stock is technically oversold. However, after pulling back from about $55 to $39, the stock appears to have caught strong.
Two, EV demand in China is gaining speed.
In fact, according to XPEV President, Brian Gu, noted by Yahoo Finance, in the first 11 months of 2021, about three million EVs were sold in China, which is 177.6% year over year growth.
"This year we certainly saw an explosion of EV penetration. So let's say a year ago, it's a roughly 5% penetration. And as of late, [that] figure… is close to 19%. That's a dramatic increase over the course of probably 15 to 18 months," he added.
In addition, XPEV delivery numbers have been impressive.  In November, for example, the company delivered 5,613 vehicles – 270% year over year growth.  Cumulative deliveries jumped to 121,953 as of November.
(more below)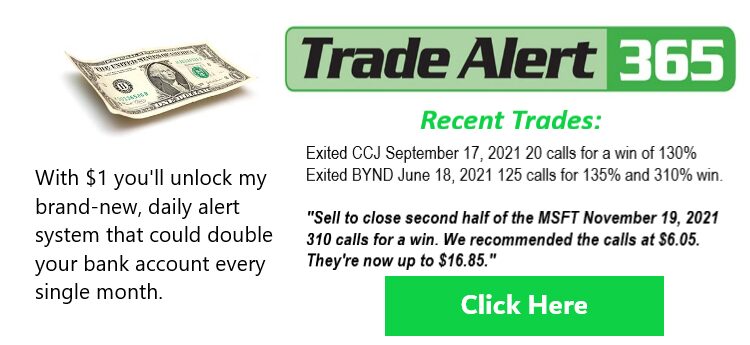 Nio Inc. (NIO)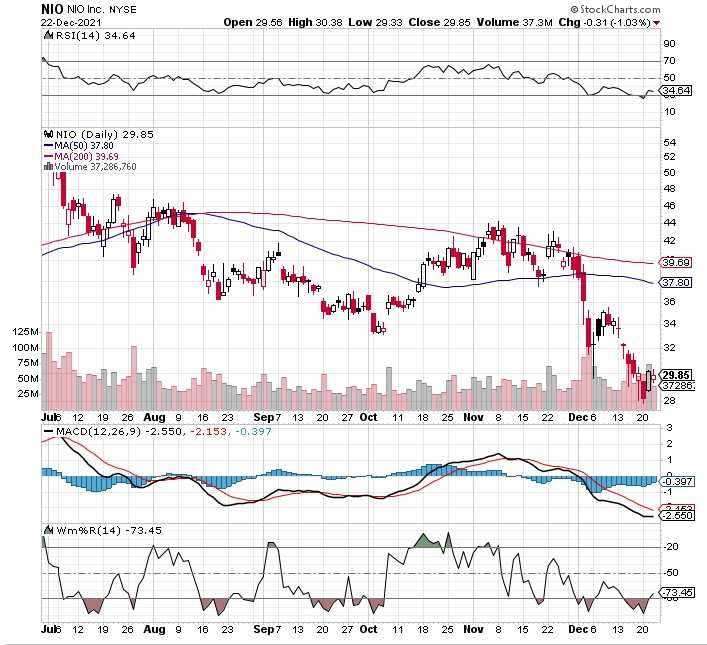 Beaten down shares of NIO are just as attractive.
Oversold at $30, we'd like to see NIO run back to $42 again, near-term. Helping, Morgan Stanley just reiterated an overweight rating on the stock, with a price target of $66. They believe NIO's risk to reward ratio is attractive, and that the market is expecting a lot from the company in the new year.
Helping, NIO deliveries are still strong. For November, for example, the company delivered 10,878 vehicles – an increase of 105.6% year-over-year. The company also delivered 80,940 vehicles year-to-date in 2021 in total – an increase of 120.4% year-over-year.
Li Auto (LI)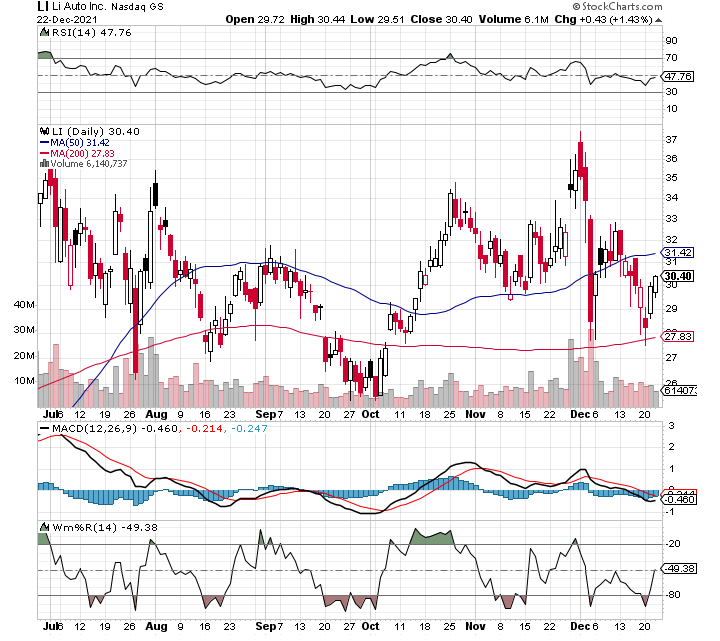 Li Auto (LI) could accelerate in the new year, too. Earnings have been solid, with the company reporting adjusted EPS of three cents a share on $1.21 billion in sales. Analysts were looking for a three-cent loss on $1.13 billion in sales.
"In light of our strong order intake and users' rising acceptance of smart electric vehicles, we remain as enthusiastic as ever about our growth prospects," said CEO Xiang Li, as quoted by Barron's. "We will further increase our production capacity through the addition of the Beijing manufacturing base, and consistently expand our sales and servicing network to prepare our business growth."
Near-term, the company expects to deliver 30,000 to 32,000 vehicles in the fourth quarter after delivering 25,000 in the third quarter.  The company also expects to see total revenues of between $1.37 billion and $1.46 billion, which is above estimates for $1.35 billion.
Ian Cooper