From Ian Cooper, Author Trigger Point Trade Alerts
Affirm Holdings (AFRM) could see higher highs, we said on October 14.
At the time the AFRM stock traded at $145.73.
All with the "Buy Now, Pay Later" boom showing no signs of slowing.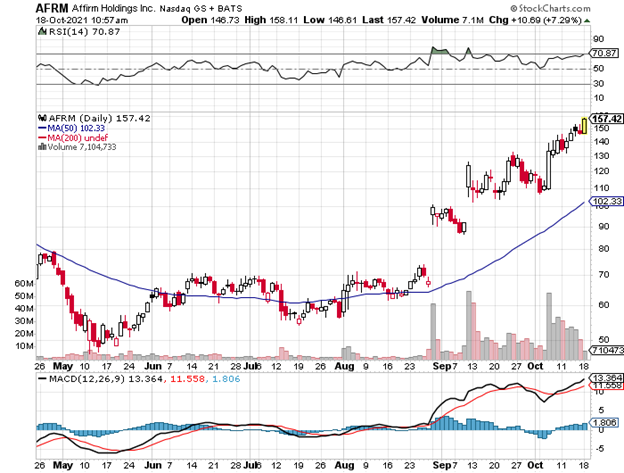 In fact, according to Barron's, "BNPL is gaining popularity given that interest rates are ultralow, reducing costs for consumers. Other fintech apps have entered the market, including Affirm, a pure play on the sector, and PayPal (PYPL). Apple (AAPL) is also developing a BNPL service with Goldman Sachs Group (GS), its credit-card partner."
As of Monday morning, the stock was up more than 11% a share to $156.70. From here, we still believe AFRM could be a $200 stock, near-term. Helping, analysts at Bank of America just raised their price target on the AFRM stock to $160 a share.
If you bought into AFRM on our note, we'd love to hear how you did.
Ian Cooper