From Keith Harwood, OptionHotline.com
A week from today, I am going to be diving deep into big opportunities in the options market. If you want to be sure you don't miss this session where I spotlight options that could be mispriced in your favor, sign up here.
While everyone is focused on the mid-term elections and the impact going forward, I want to circle back 2 weeks and review some ideas discussed and see how they're performing. With elections potentially causing drastic shifts going forward, we first need to see the election results before we can start to predict the trend changes. That's something we can start to predict over the coming days and weeks.
Two weeks ago, I discussed a couple of trading approaches that could be used for this market – buying the leaders and buying the laggards. But not all laggards were going to be good. For example, the broad tech sector continues to lag. It simply can't find a good buyer. But how did the sectors I highlighted do?

My first highlighted sector was oil services, with the ETF OIH: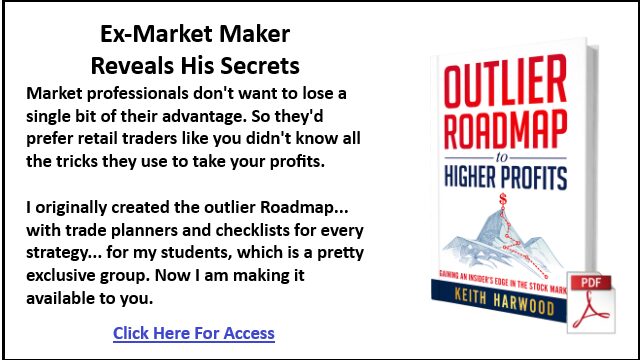 As you can see, OIH has had a nice run over the last two weeks, with a move from the closing price on October 25th of $283.06 to a close on November 8th of $317.76 – that's a little over 12% in two weeks. Add the leverage of options, and that's even more impressive, but this makes it clear that the market wants to keep rewarding oil company investors right now.
Oil has been a driver of OIH performance, so we have to look at USO again:
While USO is up from $70.61 at the close on October 25th to a close of $74.47 on Tuesday. This move is still impressive at over 5%, but clearly OIH is outperforming. What about the laggards in that oil move?
We discussed that USO performance could help ICLN, as a clean energy alternative ETF:
ICLN pushed through the 20-Day Moving Average highlighted and went from $18.33 to $19.42. At almost 6%, it's still very solid, but clear that the leader in OIH is still getting greater money flow than the alternative energy sector, at least for now.
Finally, we looked at one of the big laggards in China. FXI was the ETF highlighted:
And again, FXI went from $21.94 to $23.94, a very solid 9% move. This has been a great couple of weeks for investors in Chinese stocks, and now the question is whether that can continue?
Options are crucial here – buying into a sector that's been bullish like OIH, a laggard like ICLN, or a bearish sector like FXI all required defined risk, but with moves like this that are near the annual expected returns of the stock market, the leverage portion clearly helped tremendously for traders.
And, so we are clear, not all sectors have been rallying since October 25th.  Just look at tech via the ETF QQQ:
October 25th, QQQ closed at $284.21, but now is down to $269.54, a loss of over 5%. Picking the right sectors at the right time is key in this market, especially when buying options, which have an expiration date.
But now, could QQQ be a new bullish idea as the big laggard that could get some interesting money flow?  Perhaps this is a new sector to focus on, especially since options are cheap!  Let's look at the VIX:
With VIX near lows, now is the time to focus on using options to define risk and leverage these potential moves. Shifts in the markets will continue, and with those shifts, major moves can be expected. The election and the earnings cycle can certainly be big fundamental drivers of moves, and thanks to a low VIX, there are some great options strategies that can be utilized.
If you'd like to learn more, please go to http://optionhotline.com to review how I traditionally apply technical signals and probability analysis to my options trades. As always, if you have any questions, never hesitate to reach out.
Keith Harwood
Keith@optionhotline.com
PS-There are a lot of charts to process here. If you want to see how I build a chart, just click here.