Wednesday July 21st, 2021
Happy Wonderful Wednesday!
Last week, the market gave us three days up and two down. The Nasdaq and S&P reached new highs within the weekly moves. The Dow came close to hitting that mark as well, and then there was Monday this week. Monday brought a huge pullback in all the indices. The Dow drop 725 by day's end which was an improvement from its earlier lows. There is talk of another lockdown and virus fears and the market reacted.
It is hard to know what will happen drop here. It could drop further since we have been due a pullback. It could flatten out here as it tests support levels, or it could recover and decide this was a rash over reaction.
I am typing this on Monday evening, and it is hard to know what the next couple days will bring. Periods like this happen and it is acceptable to stand aside and let things settle and then reevaluate to see how the market will deal with the negative excitement.
I am not going to suggest a trade candidate today. Instead, I will post some charts that will help paint a picture of what is taking place.
To review past equity candidates, scroll down.
For those who want more info on ADX, I give more details in the section below, or scroll down to the trade info.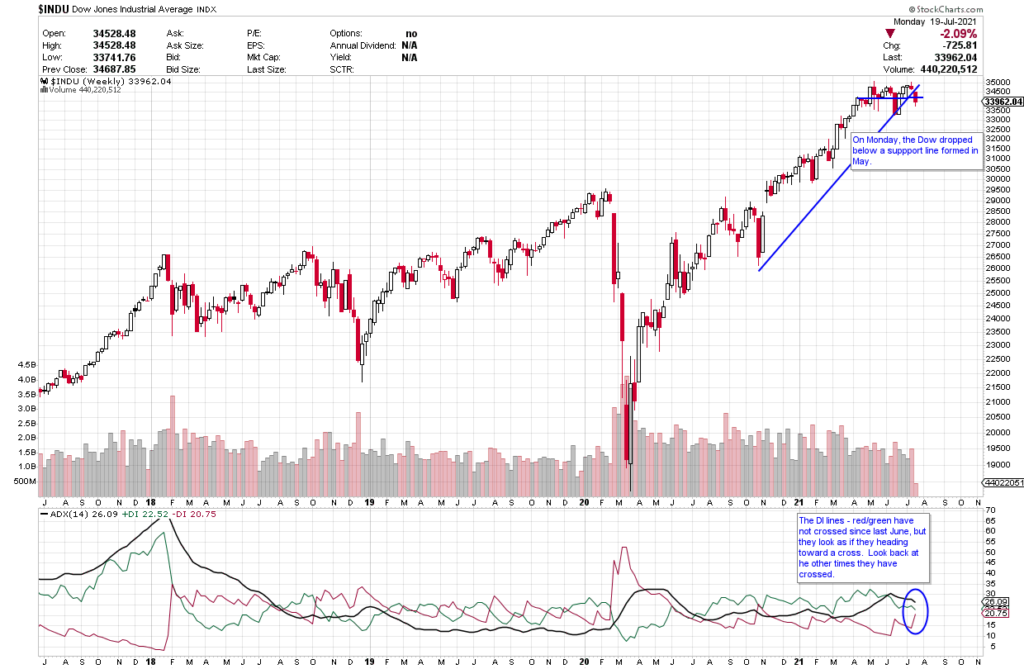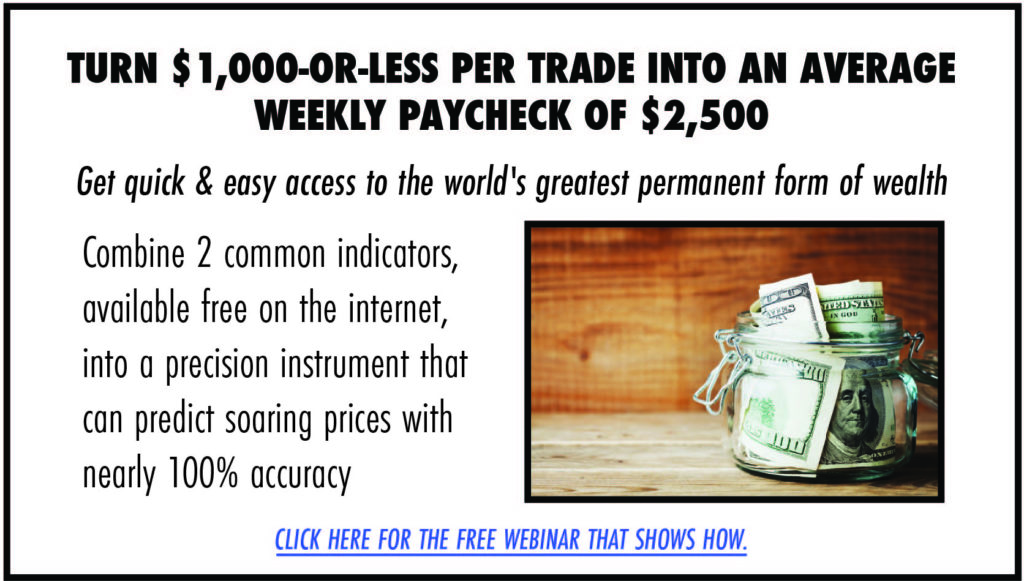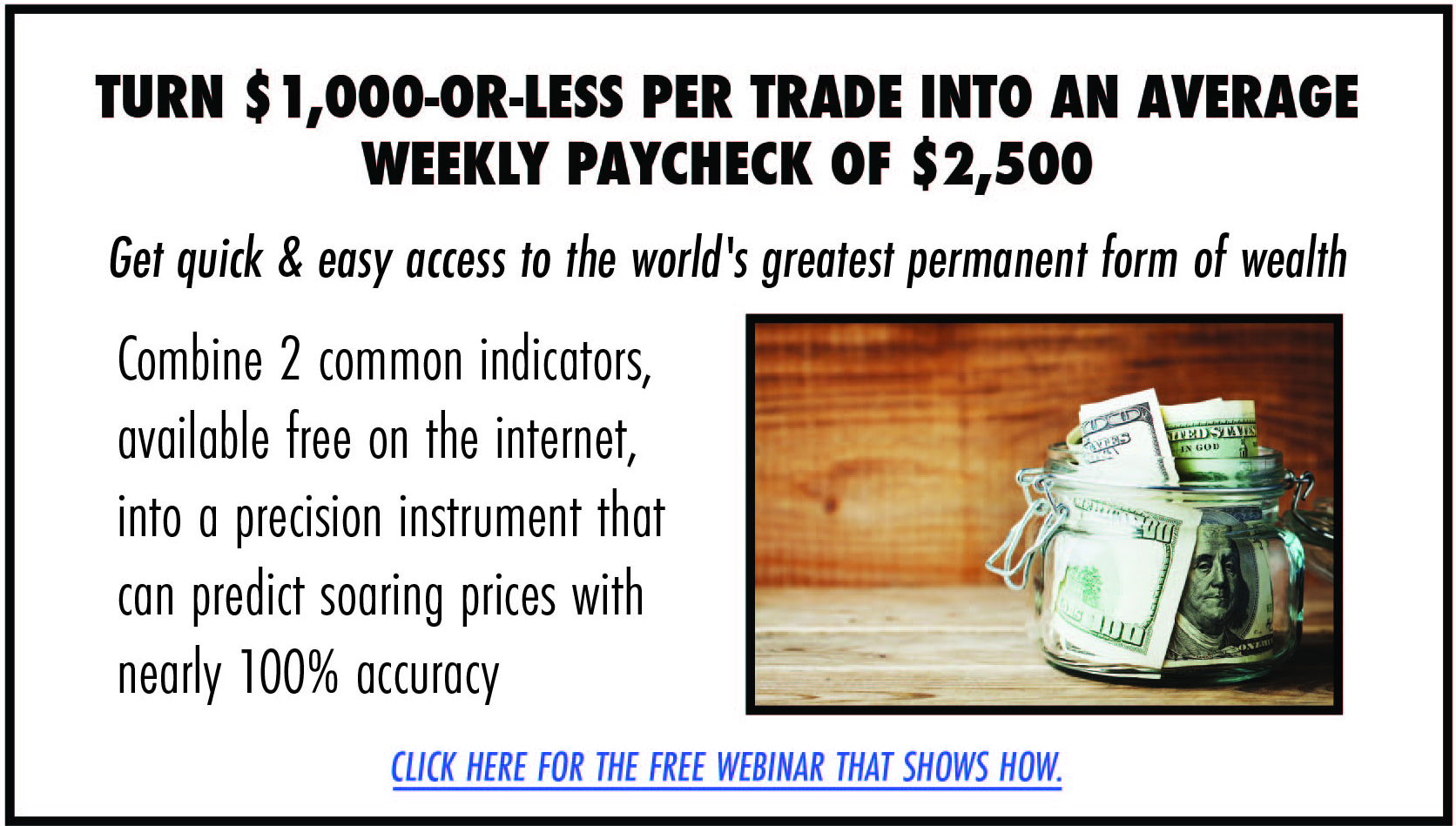 Average Directional Index (ADX) Points to Direction and Strength
ADX is an easy indicator to interpret. The +DI line (green) is bullish and when it is on top, it suggests price is going to head up. When the -DI line (red) is on top, it suggests price is going to drop.
The black line is the strength line and when it heads up, it is telling you strength is moving into the DI line that is on top and in control. When the ADX line has been heading down, the DI line on top has been weakening and is ready for a change.
When the DI lines swap places and cross up and the ADX heads up, it suggests strength is moving into the new DI direction.
ADX signal = Profit Payout
Each candle on the chart represents price movement of a week. Today the +DI (green) is heading down, and the-DI (red) is heading up. They haven't yet crossed but they look as if they may cross. It doesn't seem wise to go long when the environment is bearish and seems unwise to enter a bearish trade when the brakes could be applied and have the direction switch. It is time to sit back and watch and evaluate.
I am looking at its chart on Monday, and long-term direction is uncertain.
If you are interested in learning more about the ADX strength line, I'd like to suggest you consider getting Inevitable Trend Moves. This book covers in detail how to trade the ADX to jump in during a confirmed strength stage that is as clear as looking at a picture with arrows pointing out direction.
Stock Carpet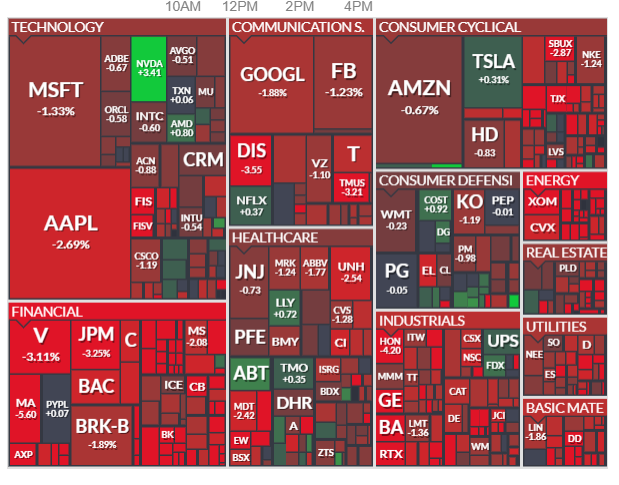 The carpet image above is from Monday. There is a great deal of red showing all the equities that were bearish and had negative moves for the day.
The next image is for the Dow on Monday.  Note the large drop on open and then the rest of the day it flattened out, which makes it hard to know if it will move up a little on Tuesday to release some steam and then drop further or if Monday was an over-reaction, it has rested and will then recover by moving up.  Time will tell and it is perfectly okay to pause and take a deep breath and wait to see what it decided to do next.
Please note and remember that I am typing this on Monday, two days before you receive it and the information, I am sharing could change over those two days and is intended to share the opportunities that options offer us.
Options can offer a win, win, win trade opportunity. They often offer a smaller overall investment, covering more shares of stock and potentially offer greater profits.
If you are having any kind of trouble taking advantage of these trades, I don't want you to miss out. I have put together programs that help traders just like you access the potential profits that options provide. I write like we are having a conversation, so the information is easy to understand and apply. Be sure to check out the programs shared in this email and we will make it easy for you to get your share.
I love to trade, and I love to teach.  It is my thing.
PS-I have created this daily letter to help you see the great potential you can realize by trading options. Being able to recognize these set ups are a key first step in generating wealth with options. Once you are in a trade, there is a huge range of tools that can be used to manage the many possibilities that can present themselves. If you are interested in learning how to apply these tools and increase the potential of each trade, click here to learn more.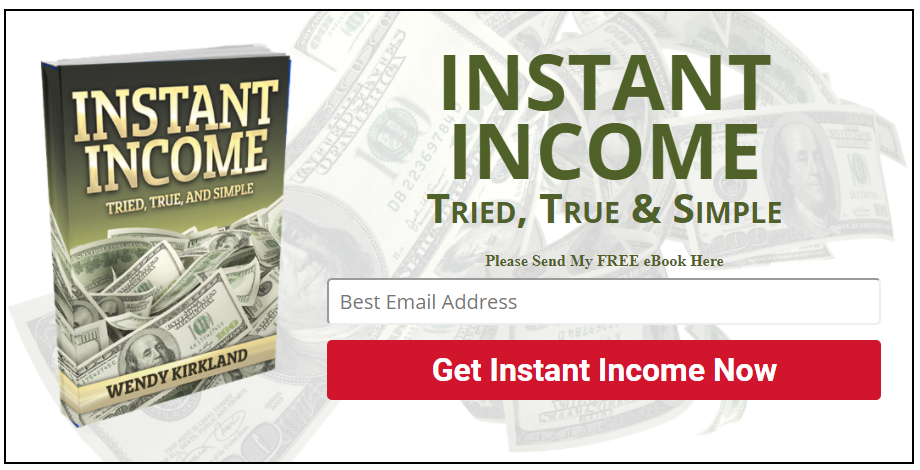 Review of Past Candidates:
Three weeks ago, we checked out Netflix (NFLX) with a July 30th expiration and 540 strike price, paying a $19 premium per share. The equity climbed 560 last week and premium rose as high as 28.00. Nice return on the trade. It now pulled back and is at 532 with a premium of 14.90.
Two weeks ago, we looked at MSFT with a $290 strike and July 30th expiration and a premium of $1.82. It went as high as 284.10 with a 2.50 premium and then pulled back to 277.10 with a 1.28 premium.
Last week, we studied QUALCOMM (QCOM). Last week, the week ended down. It broke its support level and trade should have been closed. It dropped further this week.