We have repeatedly seen markets making a fight to go higher and then getting beaten back down. Yesterday was a classic example. Out of the gate we were in positive territory but simply couldn't hold on to stay there let alone push higher.
This classic exhaustion pattern has has happened repeatedly lately and is a clear sign that we just don't have the momentum upward to keep climbing. In fact after being relatively flat for months this is an indicator that we will see an additional decline.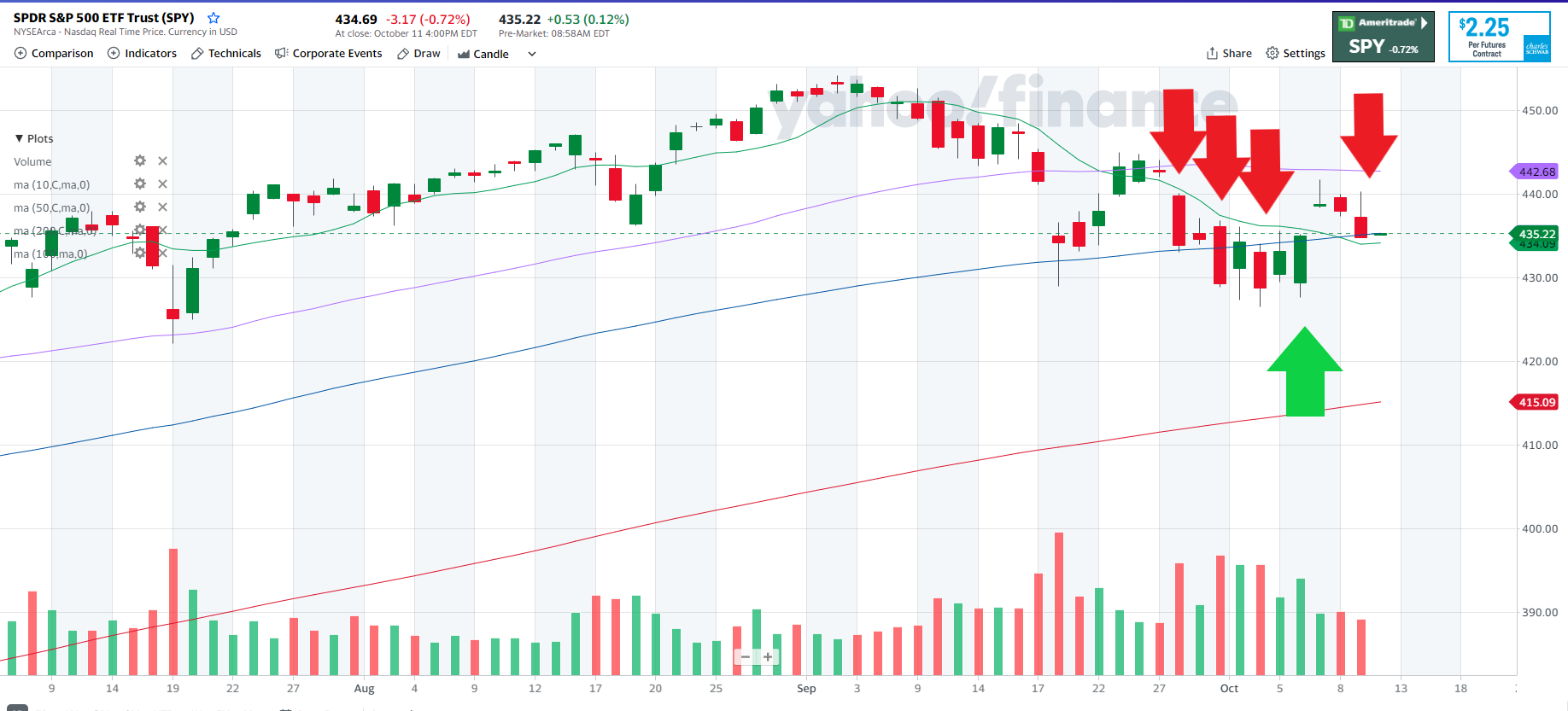 Just look at the SPY and notice how many times we have had a big move that closed at the bottom of that days trading range. The red arrows indicate days where the range of that day was bigger than the average range d(shown by the size or height of the bar) of previous days. You can also see an uptick in volume across the bottom of the chart. While we do see a couple days with bigger than average range that closed up, the momentum is clearly exhausted.
Even the one day that we saw the gap up was driven by the extension of the fight over the debt ceiling. And that simply got pushed for a few weeks. On top of that we are learning that the economic impact of the delta variant may have been more significant that expected. As we head into a wave of earnings reports we can expect numbers to be under expectations in general.
This type of exhaustion pattern we are seeing isn't as dismal as it may look. Lee Gettess has built a powerful approach around exploiting this type of move. To have such a textbook example setting up for us makes it even easier to use to max out the potential for our own account.
If you want to grab this approach, see how it works and have Lee hand you his alerts to make it as simple as possible, click here.
Keep learning and trade wisely,
John Boyer
Editor
Market Wealth Daily
PS-If you want to catch a quick video interview with Lee where he walks through this approach and shows the huge potential, click here to check it out. be sure to scroll down on that page to see the past interviews.