From Keith Harwood, OptionHotline.com
The market is overbought. There are many ways to tell when a market is getting a bit frothy, but one of my favorites is the Relative Strength Index (RSI).
When the RSI gets over 70, it's traditionally a sign that a stock or sector is getting a bit too ahead of itself. Don't get me wrong – a high RSI is NOT a bearish indicator. It's simply a sign that we may need to take a little pause in the aggressiveness of the rally. Once that pause or minor pullback is complete, we often see continuation in the prior trend.
And now, the RSI for many major sectors is simply a bit on the high side, although they seem to be falling slightly. Let's go through 3 major sectors to see where the RSI is. First up, the S&P 500 via the SPY ETF: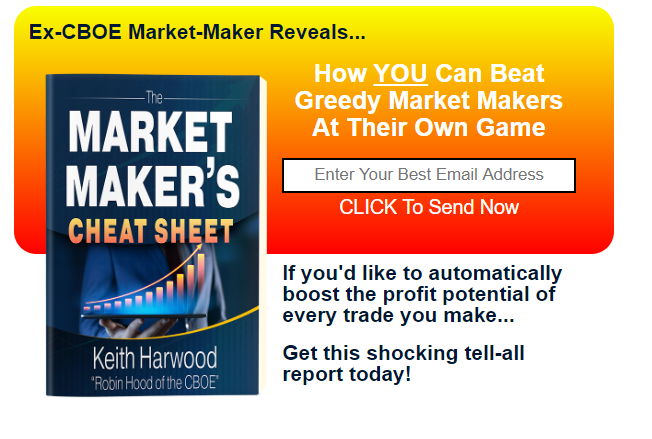 As you can see, we have an RSI of just over 70 for the broad S&P 500. The falling RSI due to yesterday's dip is not necessarily an indication that we should be aggressively buying quite yet, though. It's traditionally a sign that we may be in for a bit more of a dip and/or consolidation.
Similarly, let's look at the NASDAQ 100 via the ETF QQQ: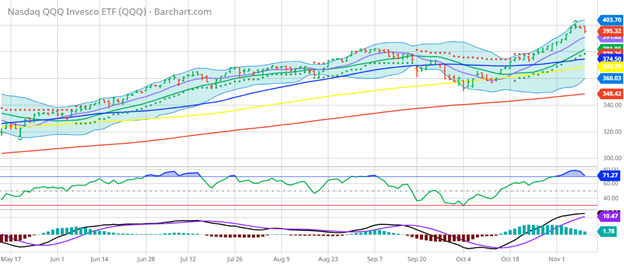 At the end of the day, all 3 of these major broad market indexes are pushing high RSIs even with a minor pullback on Tuesday. For me, this means it may be time to find a trade that bets on smaller moves for major indexes in the near term.
Eventually, the bull market may continue, but trading with a strong directional bias today may not be the highest probability trade in the market. Fortunately, with options, one can bet on explosive moves, slow moves, no moves, or almost any other potential trading pattern. It simply takes knowing which pattern pairs with each complex options trade to find the best leverage.
So, please go to http://optionhotline.com to review how I traditionally apply technical signals and probability analysis to my options trades. As always, if you have any questions, never hesitate to reach out.
Keith Harwood
Keith@optionhotline.com
PS-Interested in live training with legendary trading champion Chuck Hughes? He has opened up a very limited number of seats in an exciting new program. If you'd like to get in on this rare opportunity, click here for more info.