From Don Fishback, author of Your Quick Start Guide To Options Success
Our market rating is bullish.

We're seeing more and more companies passing along commodity price increases to consumers. First it was new home prices rising to skyrocketing commodities like copper and lumber, which are closely linked to construction. Then it was energy when tightening supplies and rising demand caused oil prices to spike above $60 in the first quarter of this year. Now it's food commodities. As Barron's wrote over the weekend,"The CRB foodstuff index, which includes hogs, butter and sugar, in addition to grains and other agricultural commodities, is up 15% this year and trading at the highest level since summer 2012. Grocery prices are in turn at seven-year highs" How consumers react will be important, especially once the spigot of stimulus money runs dry. If we see inflation expectations rise, look for the Fed to go from friendly to unfriendly. A change in the Fed's position on hiking rates is not likely to happen at this week's meeting though, so our monetary indicators remain positive.

Meanwhile, we've seen earnings come in at a surprisingly good pace: of the companies that have reported earnings so far, the average result is a "beat" of the estimate by 23%. Earnings reporting moves to a frenetic pace this week, with 169 of the S&P 500 companies on the calendar. Big tech is at the forefront.

In sum, the Fed is the market's friend, inflation is up, but it has not reached a level that is troubling yet, and advisors are telling their clients to buy stocks for further gains. All in all, that has our Three Pillars bullish.

For information on how we utilize our market rating to invest, please scroll down to read our guidance.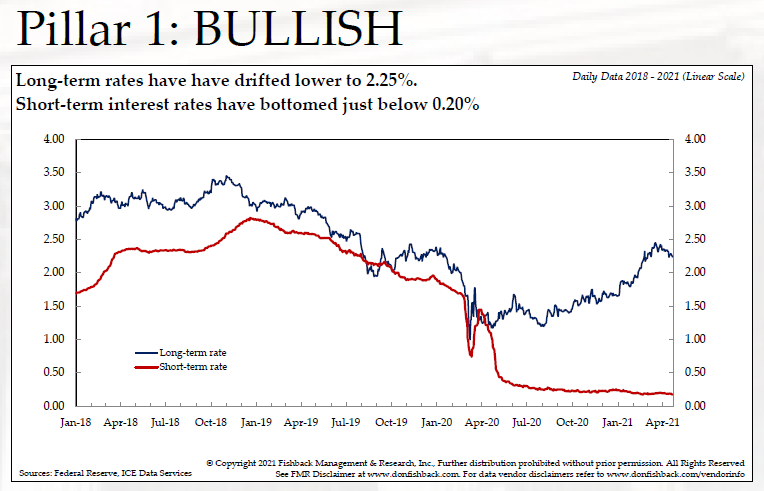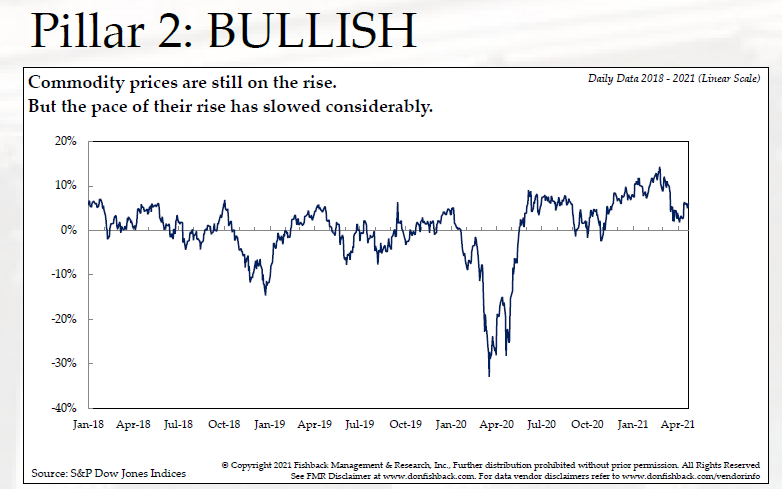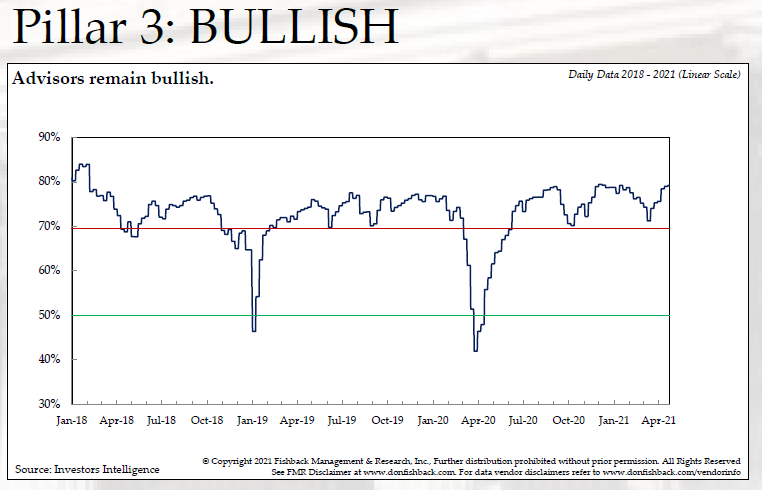 When the Three Pillars reading on page 2 is Bullish, you want to have a bullish stance on the stock market. The easiest way to do that is to buy an ETF that is based on a broad-based stock index. Depending on your risk tolerance, that could be SPY, SSO or SPXL. In real-world investing, we use SSO and SPY for the bulk of what we do. I am giving SPXL, which is extremely aggressive, a try with a small percentage of my investment capital.

When the Three Pillars reading on page 2 is Bearish, you want to have a defensive stance on the stock market. The easiest way to do that is to sell the stock index ETFs you purchased when the reading was bullish, and switch into money markets. Our primary accounts are at Fidelity (we receive no compensation from Fidelity), so we switch into their core money market fund. You can do something similar to this with any brokerage firm you choose.

The performance metrics you see on our web site assume that you make a complete switch back and forth between stock index ETFs and money market funds.
You can also use Three Pillars to assist in making decisions regarding your own investment portfolio that do not involve buying and selling stock index ETFs. For instance, let's say you have a portfolio of stocks and conditions in the market are such that the Three Pillars reading on the market is bearish. You might consider selling some of your holdings, or you might hold off on buying stocks that you were contemplating investing in.

The bottom line is you can use Three Pillars to Wealth in a variety of ways to help you build wealth with confidence.