We have been watching the consolidation in the major indexes and this week will give us a good idea of where we will go. So the big question is:  How do I trade today for the most probable payout? 
We see the momentum showing signs of a continued climb but since we are at the top of the current range the previous resistance could take hold. On one hand we could buy some calls on index ETFs like QQQ or SPY for July just below the most logical strike price. Let's look at what that looks like in QQQ: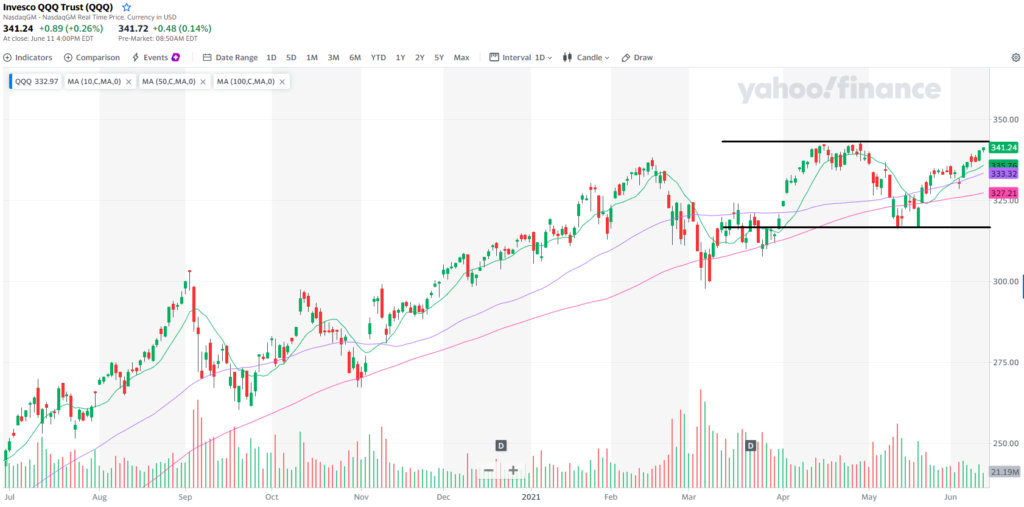 The range is about 315 to 340 and if we turn that 340 into new support we can expect a jump up to the equivelant of the previous range at about 365. If we took a 360 July 16 call position, the premium is $2.56. That could potentially double if we hit the target of 360.
But what if we are wrong? The amazing thing about options is they allow you to create positions called spreads that provide the opportunity to make money if the market goes up or down. With a basic understanding of those spread strategies, you can be ready to cash in on a move in any direction. 
As volatility continues to drop, these options get cheaper and cheaper. This makes increases the potential payout if we see a quick move in QQQ. Better yet, it makes setting up a spread even more accesible.
If you are looking for the right option strategy to get the biggest leverage from this current market, the pro to go to is Don Fishback.
I would grab his book "Your Quick-Start Guide to Options Success" as well. It explains ideal option strategies–from spreads, to strangles, to straddles–in the most simple language I have seen. Download and don't miss this opportunity.
Keep learning and trade wisely,
John Boyer
Editor
Market Wealth Daily