From Ian Cooper, Author Trigger Point Trade Alerts
NIO Could be Headed to $60, Near-Term
Nio Inc. (NIO) is breaking out.
After consolidating around $45 for the last few weeks, NIO just broke out to $49.16. From here, we'd like to see a near-term test of $60 a share. Helping, it's gaining momentum on news of its NIO Power Day on July 9, and ahead of its June 2021 delivery numbers.
Last month, NIO delivered 6,711 vehicles in May 2021, 95.3% year-over-year growth. The deliveries consisted of 1,412 ES8s, the Company's six-seater and seven-seater flagship premium smart electric SUV, 3,017 ES6s, the Company's five-seater high-performance premium smart electric SUV, and 2,282 EC6s, the Company's five-seater premium smart electric coupe SUV.
It's also running on accelerating global EV demand.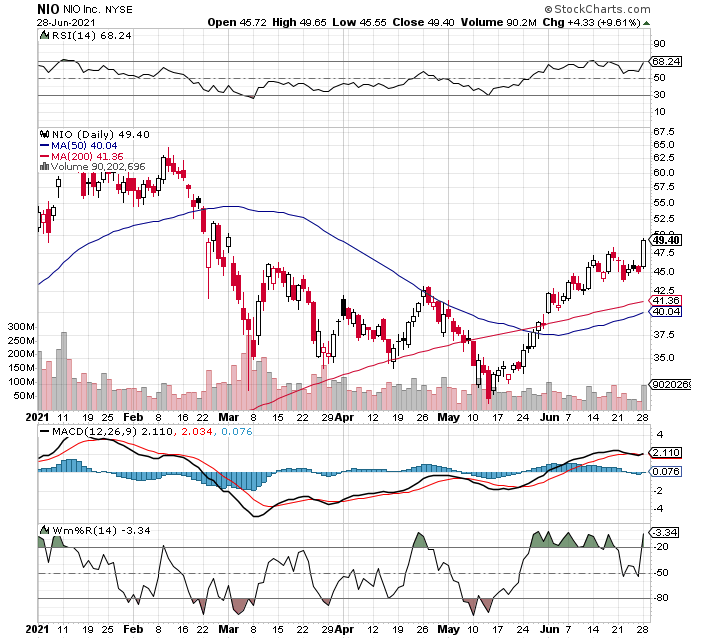 For one, the International Energy Agency (IEA), we have to stop using gas-powered vehicles in the next 14 years, abandoning coal mines, and ending oil exploration.
Two, a new report by Cairn Energy Research Advisors predicts a surge in electric vehicle sales in 2021 as countries around the world push new programs to encourage consumers to buy battery powered vehicles. Cairn estimates global sales of EVs in 2021 will jump 36% and top 3 million vehicles for the first time ever.
Three, General Motors just announced it will boost global spending on EVs to 435 billion through 2025. The automaker will build two additional battery plants in the U.S. That news comes just weeks after Ford Motor announced plans to spend $30 billion on electric vehicles.
In short, investors may not want to miss out on this rally.
Ian Cooper