A couple weeks ago I spotted TNDM breaking above resistance at its 10, 50 and 100 day moving averages. I has continued to climb and hit new highs. 
Tandem is a medical equipment manufacturer that makes insulin pumps to treat diabetes. They have seemed underpriced for a while and they just announced some strong, real world data that shows their device is having a very positive impact in actual application, not just a lab. 
Headlines can help us spot a potential trade, but we need to look at the technicals to confirm.  Lets look at the chart: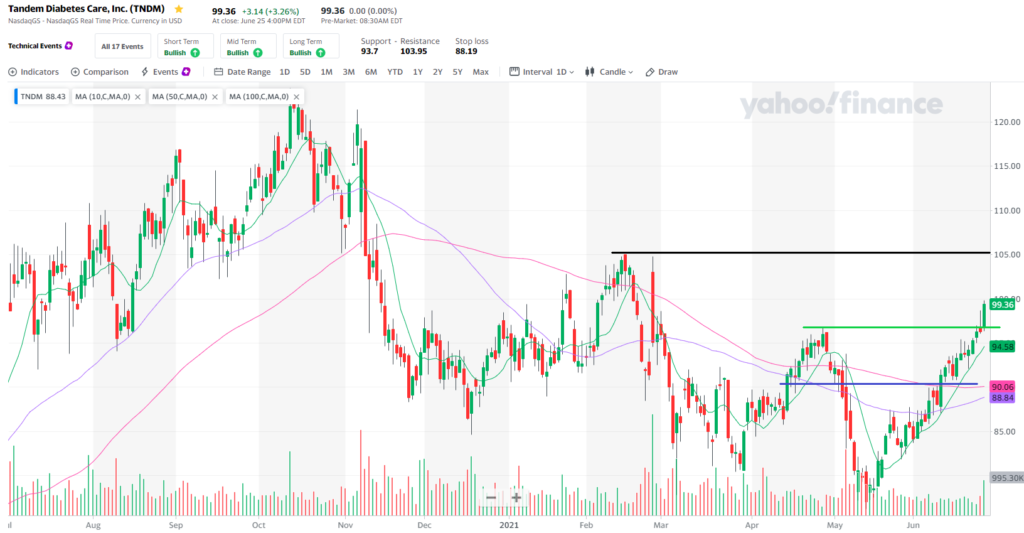 The blue line on the chart above shows were TNDM broke through a key point of resistance at its moving averages, The first target when that happened was the most recent resistance at about 95. Since we have pushed through that, we could potential reach the next point of resistance at 105.
Trying to spot and confirm momentum doesn't have to be a mystery. 
Do yourself a favor and grab Joe Duffy's Little Black Book Of Momentum Setups. Not only will it lead you to trades like this, but it will help you manage them when you are in.
Tools to help people manage diabetes are in skyrocketing demand and a handful of companies are leading the way in developing solutions to manage this illness.
Dexcom (DXCM) is a manufacturer of a continuous glucose monitor that tracks blood sugar levels without sticking a finger. It is up 25% in the last month.
Insulet (PODD) creates another insulin pump like Tandem. It is up about 20% in the last month.
Sensionics (SENS) makes an implantable glucose monitor. It has been referenced in the meme stock phenom and is the lowest priced stock of the bunch. It is up about 80% in the last month and has shot up to as much as 10X its price at the beginning of the year. Definitely the riskiest of the bunch.
Keep learning and trade wisely,
John Boyer
Editor
Market Wealth Daily