The progress on the infrastructure plan has lifted the markets and added momentum to the climb. When we see this kind of momentum it is a great opportunity to get in on the pay out. 
A couple weeks ago we targeted a call option on the QQQ with a strike of 336 with a premium of just $7.65. Just about a week later that offered a quick 25% gain or the chance to hold on. Currently that call is over $17 for about 120% gain. 
Now we are looking at a similar opportunity as the S&P takes off. 
Here is a chart of the SPY, the ETF that tracks the S&P: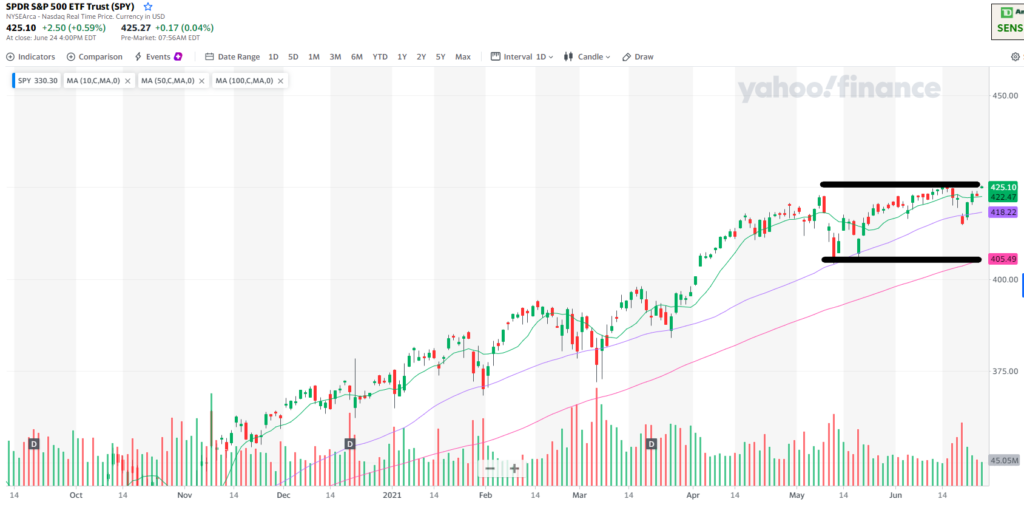 The range has recently been between 405 and 425. If we get a break out, this could turn that previous resistance at 425 into new support and push even higher.
What is the best price to pay for an option to the upside? If we look at price and timeframe we can start to see some bargains. The Aug 430 call is at $5.66 this morning. It is great to have that time for a nice upside move to play out. But if we look at the July 430 calls, we see a big difference. Since they offer less time for that move to happen they are cheaper, at about $2.80.
Is the momentum enough to make the July calls the choice? This is where looking at the probability can really give you the answer.  
This doesn't have to be a guessing game. There are clear differences between those two trades and one is the smarter choice for you.
If you are looking for the right option strategy to with the highest probability of giving you a profit, the pro to go to is Don Fishback.
I would grab his book "Your Quick-Start Guide to Options Success" as well. It explains ideal option strategies–from spreads, to strangles, to straddles–in the most simple language I have seen. Download and don't miss this opportunity.
Keep learning and trade wisely,
John Boyer
Editor
Market Wealth Daily